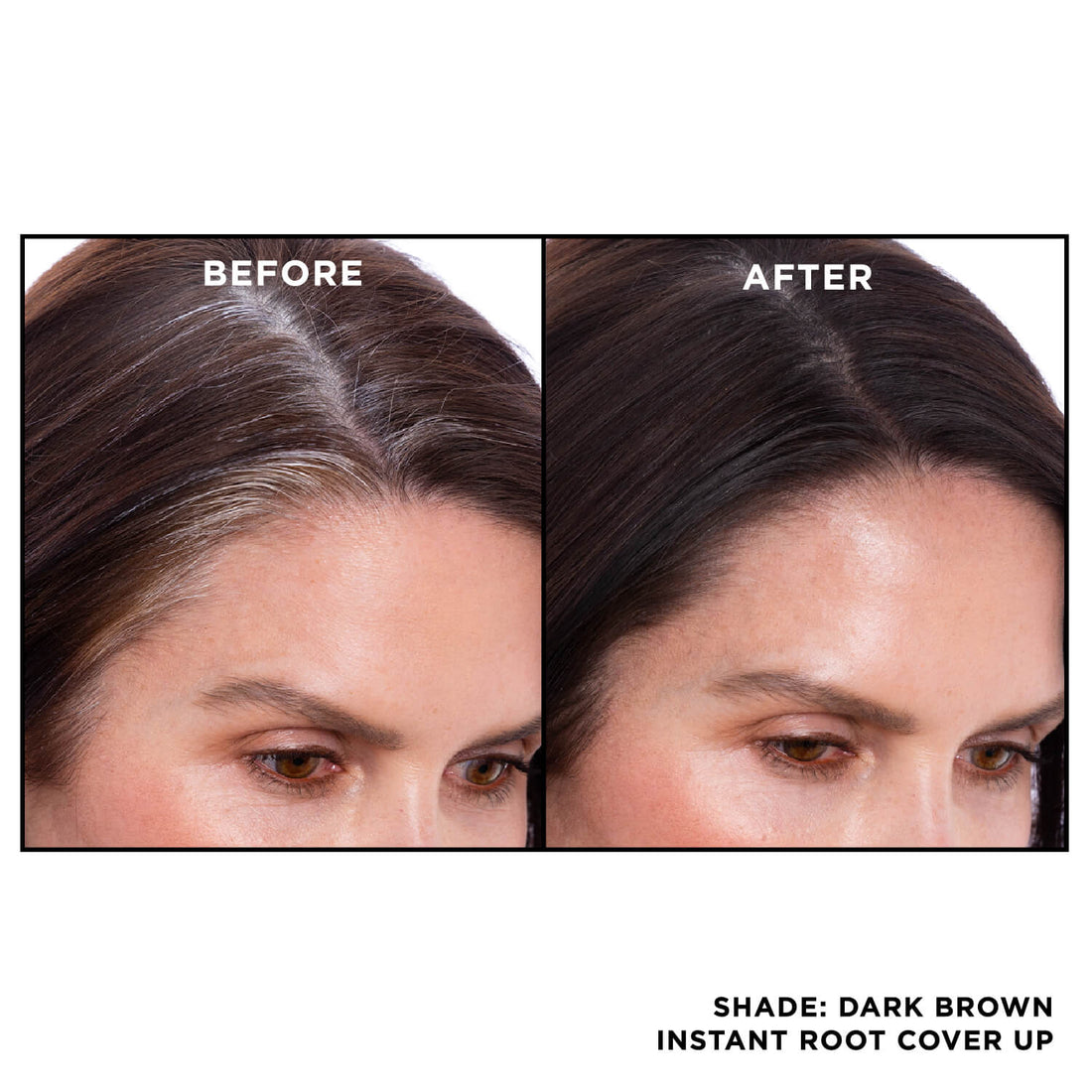 How to Cover Grays on Dark Hair At Home & At the Salon
With time, your skincare and makeup routine will likely change. But why should your hair be left out? You should also consider your hair care routine. 
Gray hair is inevitable, but people with dark hair may find them particularly frustrating. They just seem to stand out more when you have a brunette or black mane. And while younger influencers may be flocking to the salons for a "silver fox" dye job, not everyone wants to go gray. 
Learn how to cover gray hair on dark hair, including temporary root solutions and permanent coverings that will be the talk of the town. 
How to disguise gray hair on dark hair temporarily
No matter how you want to conceal those silver strands, we've got what you need.
It's okay to love your gray hair, but if you're trying to avoid it, light gray strands will contrast sharply with dark hair, making it more noticeable.
In other words, if you have dark hair, you must disguise your grays if you don't want them to show. Those with blonde and lighter hair can sometimes leave their grays alone without being too noticeable. 
But if you're not ready to embrace your graying mane with open arms, ensure you're treating your gray strands right with at-home products.
1. Use a root spray to cover up
A root concealer spray can conceal grays instantly. An ideal option for in-between hair coloring appointments, this lightweight formula leaves no smudging or sticky residue. Various color options can be applied to dark hair that will last until the next time you shampoo it.
How to use: 
You can use a root cover up spray between at-home color treatments or salon visits to minimize damage caused by coloring.
Simply shake well before use and protect your clothing with a cover or towel. Hold the can 6 inches from dry hair while spraying in a steady, continuous motion to blend color evenly. Let dry for 60 seconds.
Since it contains no harsh chemicals, this product can be used as often as necessary, regardless of whether your hair is relaxed, permed, or chemically treated. We'd say that's a big win!
2. Use a root touch-up stick to cover up
A root touch-up stick is perfect for precise, quick coverage for a few standout grays. You'll love the smooth application that quickly covers grays on any hair type.
In-between salon visits or at-home color treatments, use a touch-up stick to minimize damage caused by coloring hair. It is precise while providing quick coverage and a smooth application.
How to use: 
Ensure your hair is clean and dry before applying. Remove the cap to reveal a cream-to-powder stick, and apply the product to gray areas that need color coverage. Blend the color with a sponge applicator. Wash out with shampoo and, as usual, avoid contact with eyes. Reapply, if necessary, until desired coverage is achieved. 
You can use this product on relaxed, permed, or chemically treated hair. It contains no harsh chemicals that can harm your hair and scalp, so you can use it as often as needed.
How to cover gray on dark hair at home
A temporary touch-up spray or stick can be applied and washed out whenever you want to cover gray hair instantly. Whether you're going for highlights, lowlights, or a full-dye job, here are some key tips for covering grays on dark hair at home: 
1. Find the right product for your hair type and texture
Finding the right product to cover your gray hair depends on the level of gray and the type and texture of your hair. So there are a few options, depending on your situation. 
If you have almost a full head of gray hair, your best option may be a full dye job. On the other hand, if you are looking to cover roots or have only a few gray hairs here and there, highlights to blend/cover your grays might do the trick. 
2. Start with the roots
Get in there and saturate them with a tint brush to get full coverage. Start with your roots whenever you're adding color to your hair. If you really want to cover your grays, you should reach every layer of your hair. Depending on your stubborn roots, you may need to reapply some color halfway through development.
3. Check the color 
Always check how your developing color is going by using the end of a rat tail comb to part the hair and take a peek. Since color needs around 15-25 minutes in heat and 40 without, it can be easy to lose track of time as you apply color to your other strands. Checking on your hair is so important – you wouldn't want to waste all your time and effort washing out a tint before it's fully absorbed. 
4. Wash out and dry
To remove your hair dye, shower or wash it under a faucet until the water runs clear. Now all you have to do is apply a heat protectant, blow out your hair, and revel in your newly colored hair!
How to cover gray on dark hair at the salon
There are several ways your stylist can help you cover up any gray strands if you're ready to commit to the change. Getting advice from them will ensure that your hair will benefit from the treatment and that you are happy with the results.
Ask for highlights to subtly cover grays
Looking for a low-maintenance way to cover up your grays? Good news! If you're only slightly graying or have some sporadic grays you'd like to cover up, highlights or balayage to cover your grays is a very subtle option. 
This is a more blended approach to dying hair for coverage that is a very manageable option. You'll love how the light and reflection from your added highlights will distract the eye more than an overall dye job. The grays will blend with the added dimension from your low or highlights. 
Go for a full-color service to fully cover grays
A full-color service is the best option if you're looking for all-over coverage of grays on dark hair. It's best for those with gray hair that's more than 50% gray. But in addition to being the most high-maintenance option as your roots start to grow, this option will also be the perfect solution for those who don't like how gray locks look and feel.
Even if you have naturally dark brown hair, darker hair colors might make you appear older and more tired because our skin loses its natural pink color with age. Keep your hair color warm brown, and ask your stylist what color is best for your skin tone and how to change the color.