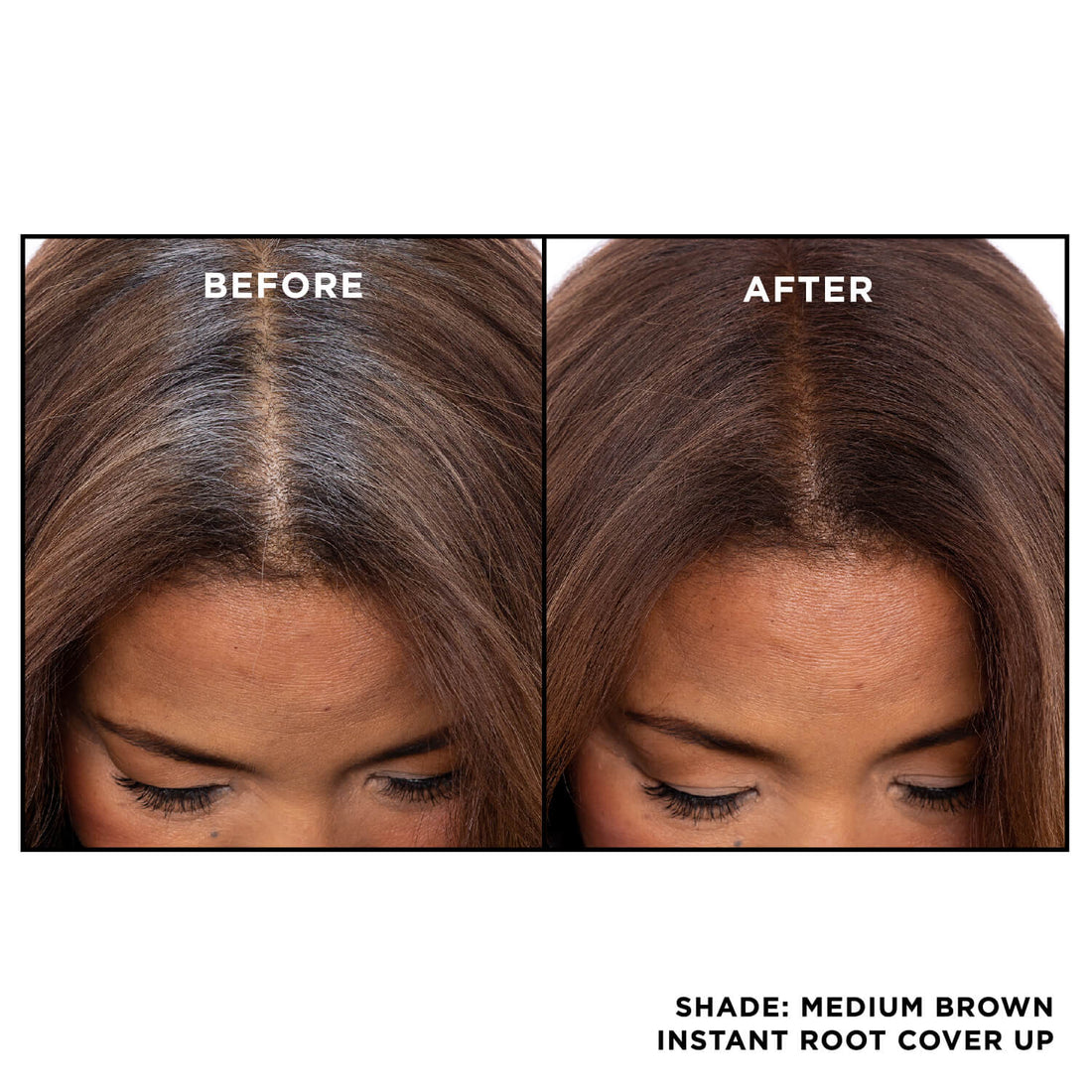 How to Use Root Spray to Cover Grays on All Hair Colors
Getting your gray hair roots touched up doesn't have to be expensive. You've come to the right place if you've run out of hair color ideas and want to learn how to treat your hair color roots at home. 
Here's how to use root cover-up spray between dying sessions to hide regrowth, regardless of hair dye or texture.
How to use root touch up spray
The root touch up spray can be your go-to product for extending the life of your hair color, avoiding hair damage with chemicals, or just giving your hair a "fresh" look.
Apply the spray over the roots directly after scraping your hair back tightly. Spray 6 inches away from the hairline and loosen the sections before applying to the roots. Allow the product to dry for one minute before touching or styling.
The root touch up won't be noticeable from your hair color if you follow these instructions.
1. Spray onto new growth
When retouching roots, we recommend going a shade lighter around the hairline since the new growth and baby hairs around your face absorb color differently, so opt for a lighter shade here to avoid your face looking too dark.
2. Spray lightly onto lengths of hair to blend hair with roots
By targeting your roots and aiming down, you can blend the spray into your hair and make it look more natural.
3. Spray in a short burst rather than one long stream to target specific areas
You can apply the spray to tissue and dab it around your hairline if concerned about forehead stains. Remember to spray in short bursts while moving the bottle to build up the product slowly. 
4. Let dry, and then you're good to go until your next wash
After applying the product, you should not touch your hair. Wait for the spray to dry completely before brushing it from root to tip.
5. Blend the color gently with a fine hairbrush
By doing this, your hair color will be blended with the product, resulting in a natural-looking gray touch-up.
Tips for using root touch up spray
In between colorings, the best way to hide gray roots is to use a touch up spray. You can easily cover unwanted hair regrowth or stray grays. But how do you use a root touch-up spray at home? 
For the best results with a root touch-up spray, read on for top tips from Gray Away. 
Choose the correct shade
You should choose a shade that blends seamlessly with your natural hair color. It is best to select a shade a little lighter than your natural color, so the finer hairs at the root will blend into your current lengths correctly.
Apply lightly around the hairline
Spraying around your face with a gentle touch will prevent harsh lines. Hold tissue paper near your hairline to ensure the product goes on your hair, not your face.
Build the product up
You should always start with a little and add more as you go along to avoid the color looking too heavy. Build up thin layers until you reach your desired coverage.